This post brought to you by Fellowes, Inc. . All opinions are 100% mine.
It's tax time and many of us are also in purge SPRING CLEAN mode. We are in the midst of re-doing my office. We just moved my husband's office to the study. With a mix of papers here and another stack of files there – and software CDs, I had no idea we had so many old software CDs! (Remember back from when you had to actually have a CD to install software?) With this spring clean out, we are in shred mode.
Hands Free Shredding!
While a typical shredder has you manually feeding your shreddables into the shredder, Fellowes up the ante creating a shredder that shreds staples, paper clips, CDs, crumpled paper, glossy paper, DVDs HANDS FREE! That's right, hands-free shredding, no more sitting next to a shredding, manually feeding various item into the shredder.
I remember shred days at the office. I so wish we had this technology. The last company I worked for, outsourced their shredding. With the AutoMax, all shredding can be done in-house.
About the Automax Shredder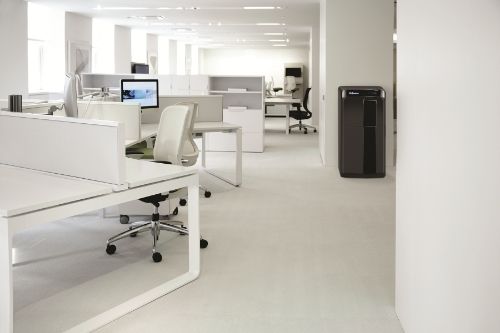 The Fellowes AutoMax offers a hands-free Cross-Cut shredding experience that is possible through an exclusive combination of technologies that save employees valuable time so they can get back to business. These technologies include:
• Patented SureFeed Technology™ that features a rotating paddle system along with a specially designed ramp that ensures a consistent feed into a robust high capacity cutting block
• JamGuard System™ that prevents shredding interruptions for jam free operation
• SmartLock™ that engages with each shred cycle to prevent the drawer from opening and protect confidential information from prying eyes
Fellowes' History of Innovation
Since inventing the personal shredder in 1990, Fellowes has remained at the forefront of technology development, maintaining a proven track record of customer satisfaction. On Fellowes.com, the average consumer rating is 4.4 out of 5 stars across the line of commercial, small/home office and household shredders.