This post brought to you by Fellowes, Inc. . All opinions are 100% mine.
I don't know about you, but this whole data breach stuff really disturbs me. In 2013, the incidences of data breach rose 30% over 2012. The Ponemon Institute reports the cost of a single data breach incident averaged $5.4 million last year, the proper storage and destruction of confidential information has quickly become one of the most important issues facing today's organizations.
I know in our house, we destroy any important document with our Fellowes shredder, but what about in an office setting?
The office I worked in for years shredded our documents offsite. We would put any sensitive papers into a locked trashed can. A company would come every month or so and take to an off-site shredding company. Did you know offsite shredding services can cost up to 55 percent more over a three-year period than in-house solutions?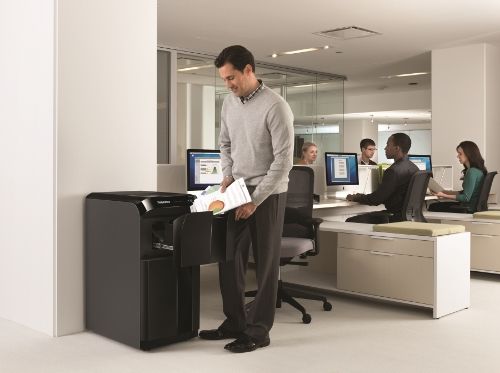 Fellowes AutoMax shredders provide the peace of mind only found with the immediate onsite destruction of documents, and they offer the first truly walk away shredding experience through a combination of innovative, exclusive technologies.That's right, no more manually feeding your shredder. Just put your papers, etc in the machine and it does the rest.
– AutoMax shredders destroy documents into cross-cut pieces for enhanced security and can shred up to 500 sheets at once including staples, paper clips, CDs, crumpled paper, glossy paper, double sided color printed paper, DVDs, and junk mail without having to manually feed it.
– Patented SureFeed Technology™ features a rotating paddle system along with a specially designed ramp that ensures a consistent feed into a robust high capacity cutting block.
– JamGuard System™ prevents shredding interruptions for jam free operation.
– SmartLock™ engages with each shred cycle to prevent the drawer from opening to protect confidential information from prying eyes.
Fellowes AutoMax shredders are available for purchase through office supply catalogs and online. For more information, visit Fellowes.com/AutoMax.